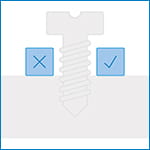 The primary function of connecting components, as is well known, is to guarantee easy assembly and maintenance. Development engineers are regularly faced with the challenge of finding the right connecting component for a new connection job.
The author of this white paper, Francis Khoo from Bossard's expert team, has examined how thanks to the selection the right element you can increase productivity and at the same time minimize risks. It shows what demands are made of connecting components and how the selection of the right element results in a functional product design that at the same time offers the necessary security.
Finally helpful sources are given which are useful in the planning and implementation of connection solutions.
The contents at a glance:
Preface
The Tasks
The Availability
The Decision
Summary and conclusion
About Bossard Engineering Services