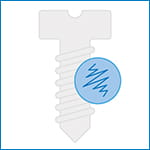 Are your connecting components regularly subject to seizing and so frequently cause a problem? In this professional article you can not only learn the causes and preventative measures, but targeted solutions for preventing cold welding.
Connecting components subjected to excessive demands or high temperatures are particularly in danger. Particularly when fixing elements and components are manufactured from different materials and the friction coefficient is high, it can lead to so-called seizing or cold welding.
Even in manufacture this challenge can be met by adequately coating the connecting components. Concrete solutions are described in detail in the professional article by Garg Deepak from Bossard's team of experts.
The contents at a glance:
Causes of cold welding
Galling and its causes
Manufacturing processes and galling
High temperature fasteners and galling
Prevention of galling
Top coat
Tribological coating